After comparing 10 of the best electric mountain bikes from top manufacturers, we found the best electric mountain bike overall is the Specialised S Works Levo. With the Commencal Meta Power 29 Team best for value, and the Orbea Wild FS best enduro.
In this article, we compare price, power, speed, range, and ride. There are many good electric mountain bikes. The best for you will depend on your budget, whether you are going downhill, enduro or a long-distance so keep reading to find which one you should choose.
Specialized S Works Levo
The Specialized Turbo Levo is a genre-defining e-bike with the design and integration so well thought out. Even a year after it was released, there's not much that can touch it as an overall package.
This is a stunning looking e-bike with minimalist design, a 700-watt hour removable battery, and a great motor system. Specialized has designed a bike that not only looks good, but performance is excellent.
It weighs 47 lbs / 21.5 kg, has 29-inch wheels, and is based around 150 ml travel. It performs really well as a trail bike but can also take on some bigger terrain. If you want to push, it's quite conservative in geometry, so it's not super long or slack, so tall riders might feel it's a bit more compact than others.
It has well-balanced lively characteristics. It feels excellent on the trails with its 700-watt hour battery; it's good for all-day rides, and you'll rarely be in a situation where you wish you had more.
The Levo range is the best bang for your buck, and it goes all the way up to the S Works Turbo Levo SL, which is a beautiful 45 lbs / 20.8 kg all-carbon bike costing over $13k.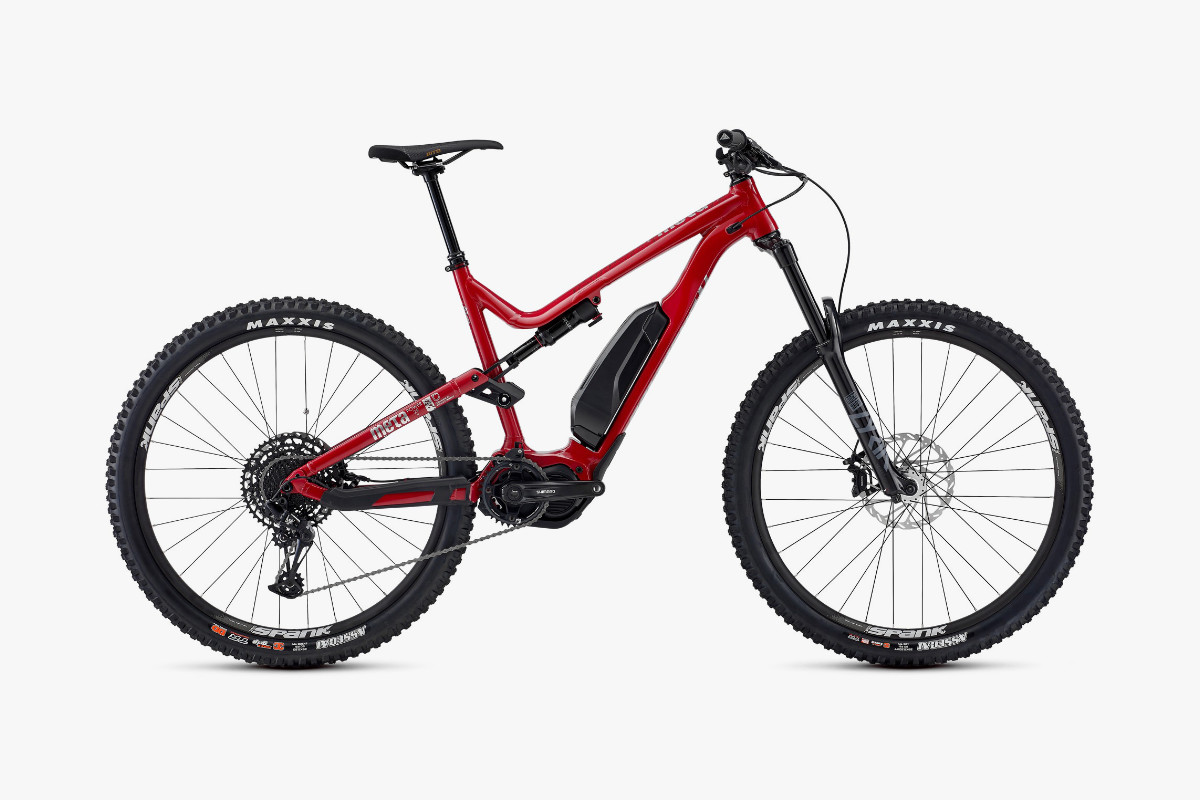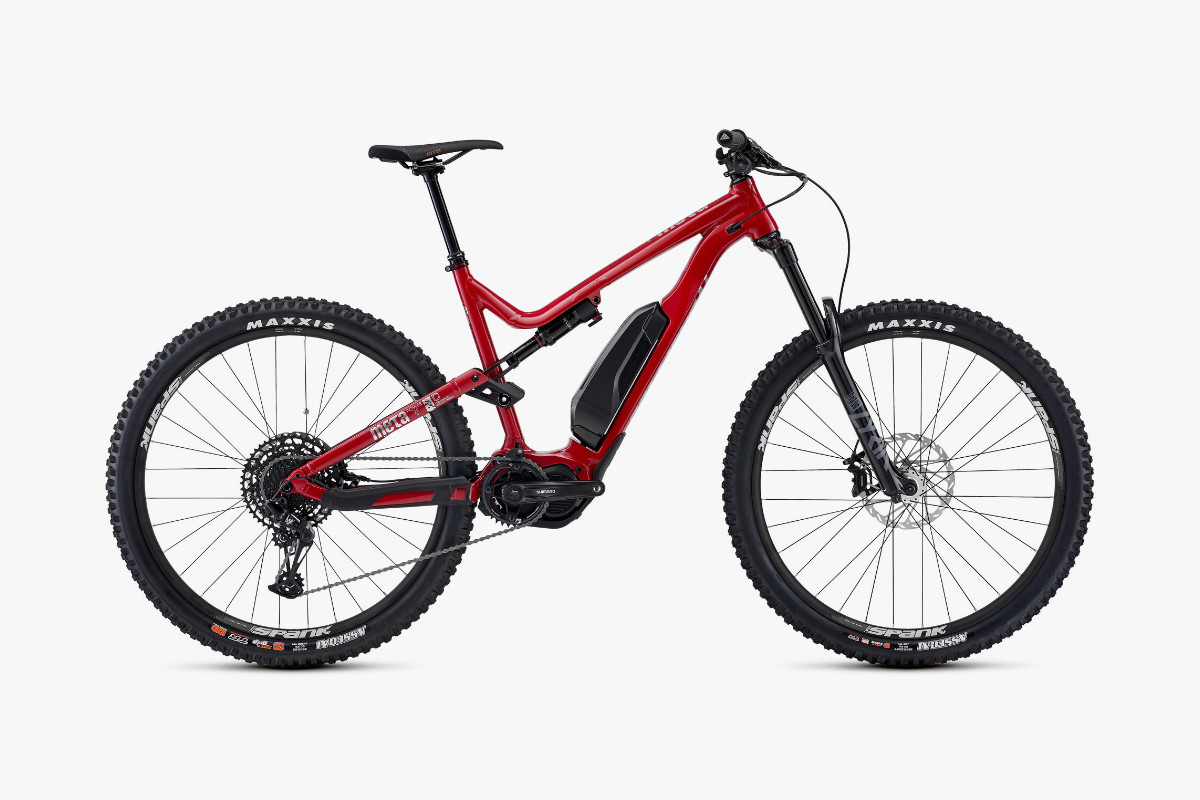 Commencal Meta Power 29 Team
The Commencal Meta Power 29 Team is a totally redesigned e-bike for 2020 with its new geometry. New angles and a longer than usual reach for Commencal, this is a well thought out bike.
It uses the Shimano E8000 system with an integrated battery, which is simple to remove a 4mm Allen key. The 504Wh battery sits underneath the downtube with a dense impact layer for protection. Which means there is room for a water bottle on those long treks.
With a lower center of gravity, the Meta Power 29 Team is great for plowing through roots and rocks with this lower extra weight. The bike itself comes in at a reasonable 51.5 lbs / 23.5 kg.
The new geometry combined with 29-inch wheels, a 170mm front travel, and 160 mm rear make this e-bike great for climbing with a fast and dynamic tail agile enough to keep the excellent flow on the downhill.
With smooth lines, stylish looks, and a great ride, all accentuated by the replica Commencal Vallnord Team colors. This is an electric bike you should not ignore.
Orbea Wild FS
Totally redesigned for 2020, the new Orbea Wild FS is a well-sorted trail and enduro electric bike based around Bosch's new 2020 generation 4 motor system.
It uses Bosch's removable 625-watt hour internal battery, which is neatly integrated into the down tube. It can easily be removed if you prefer to charge it indoors. You can also get a dual battery connection to double up on the range.
As an optional extra, the e-bike has 160mm travel on the front and rear. Orbea has worked the geometry to provide decent comfort and excellent suspension kinematics.
We have been impressed with the fit and finish of the bike and the little details Orbea have thought about like this small key holder to remove the battery that's built into the headset.
We felt the bike handled trails really well, and with the 160 mm travel, it's suited for a vast range of different terrains. The bike is a lively agile handling e-bike, and it's got decent climbing ability. Still, you can really send it downhill quickly if you want to with the 29-inch wheelset and a massively customizable build.
The Orbea Wild FS will undoubtedly be a hot product in 2020. The e-bike world is moving quickly, but this is bang up to date. So if you're looking at a sorted capable e-bike that can pretty much do it all, this should definitely be on your shortlist.
Mondraker Crafty Carbon RR
The Mondraker Crafty Carbon RR is a new bike from a Spanish brand and another with the 20/20 Bosch generation 4 motor. Mondraker has produced a stunning looking bike, and it's currently the world's lightest full-powered electric mountain bike coming in under 20 kilograms.
The Mondraker is a no-compromise e-bike, which is reflected in the price. They've gone all out with the choices they've made to keep the weight down. It's a full carbon electric bike with 160mm travel on the front and 150 mm on the rear. It uses Mondraker's signature forward geometry and zero suspension kinematics.
It's got a 625-watt hour battery that's completely internal, meaning that it's not user removable. This helps keep the weight down as it doesn't need any extra mounting points built into the frame to get the weight even lower.
Mondraker also sells the e-bike with a 500-watt hour battery option. This will reduce the weight to an incredible 19.4 kg, which is pretty remarkable for a full-powered e-bike.
The battery can be removed by a dealer, but it requires dropping the motor, so it's not something that should be done by the owner unless you really know what you are doing.
Mondraker is positioning this as an all-round enduro bike with a 65.5 degree head angle. It's not got the most extreme geometry, but it's well rounded to provide decent trail capability and excellent descending capabilities.
The 29-inch wheels give high rolling speed, and the low weight helps keep the bike agile. It offers a comfortable, supple feeling that offers good feedback, and the e-bike handles really well over bumps.
This is an expensive bike and not for everybody, but what you're getting is one of the best handling super lightweight full-powered electric mountain bikes
Specialized Kenevo Expert
The Specialized Kenevo Expert is a big-hitting enduro bike that shares a similar frame design to the Levo. This bike has 180mm travel and features an S motor that pumps out 90 Nm of torque paired with a 700 watt-hour battery.
This is a bike for big climbs that can take a beating on the way down with a super long reach up to 520 mm and a slack geometry the bike is aimed at gravity-based riders looking for something that can take the biggest of descents.
It even looks like a downhill bike with its triple clamp forks and long wheelbase. Specialized has used 27-inch wheels, and it's the only bike in the list that does. This helps keep the slack geometry long travel bike feeling and make it more agile than it should be.
The Kenevo weighs around 55 lbs / 25 kg, which means the handling takes a slight hit with the heavier weight. Specialized have beefed up the frame and the components to make sure it can handle a beating.
Given the disadvantages of long-travel bikes, this does seem to disappear when you have the electric power to help you. The pedaling performance is surprisingly good, and it is quite a comfortable bike to ride for longer distances.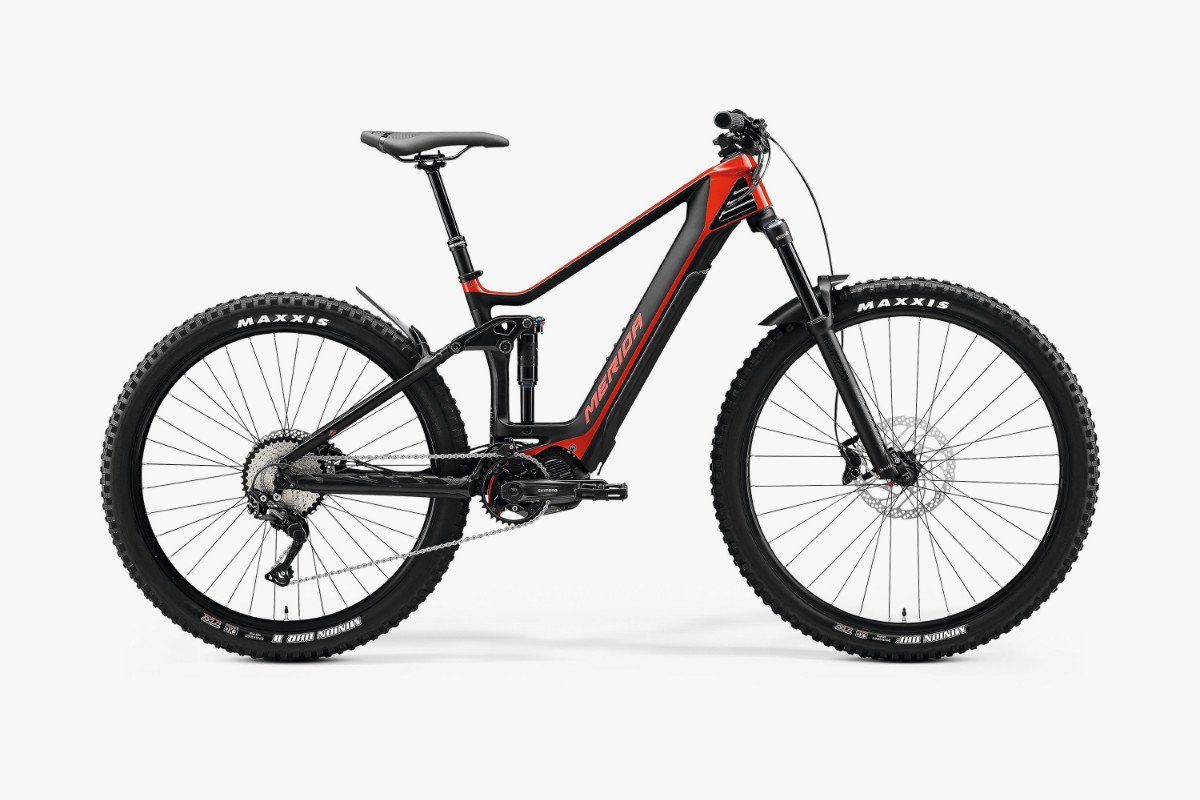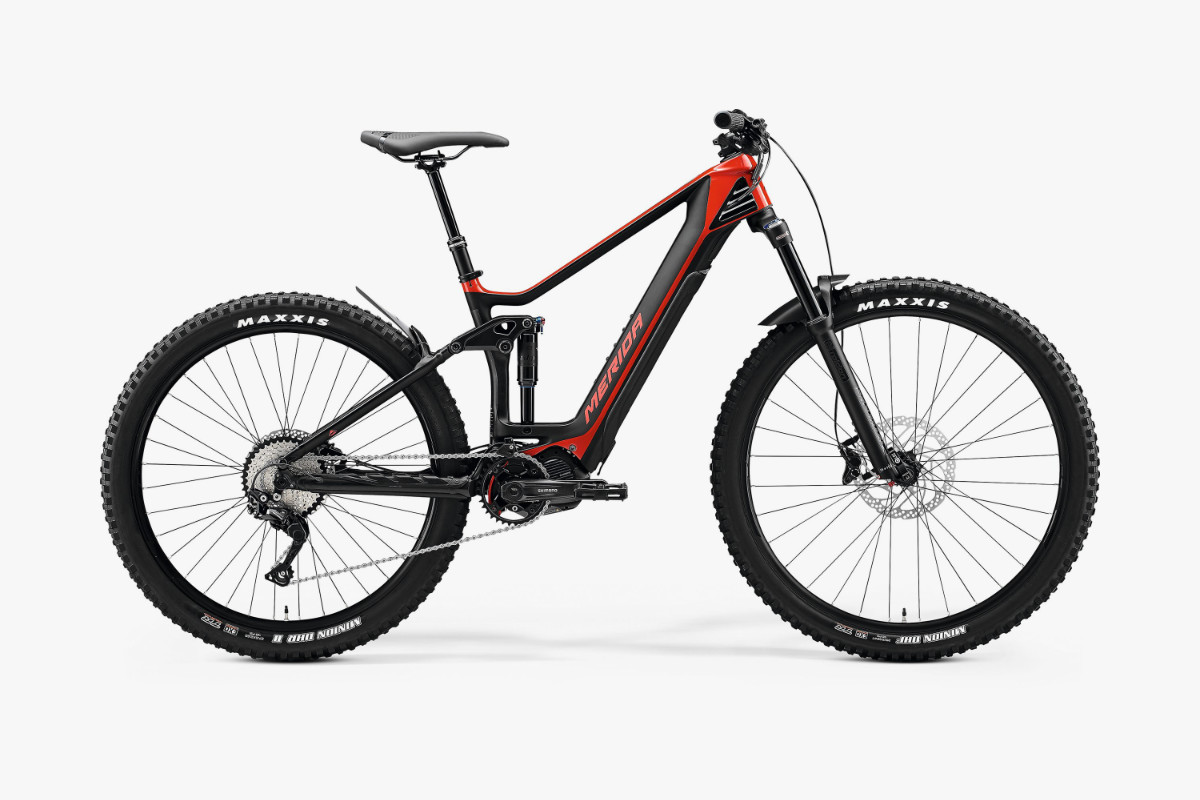 Merida eOne-Forty
The Merida II 140 has 140 mm of travel on the front and 133 mm on the rear. It features the Shimano 8000 system motor which is a compact lightweight motor with a neat little screen to give you essential information.
The motor is punchy enough and offers decent power but not the smoothest in power delivery compared to other e-bikes. Although some don't mind it. The 500-watt hour battery might also leave you short on those big all day rides if everyone else is rocking 750-watts. Having said that the batteries are compact and you could easily take a spare.
The Merida has the closest feel to a regular pedal bike due to its frame design and geometry. This is not an enduro or downhill bike, so it is a little more lively and active especially on single track trails.
The Merida eOne-Sixty is also worth a look if you do need a little more travel as they both share the same frame.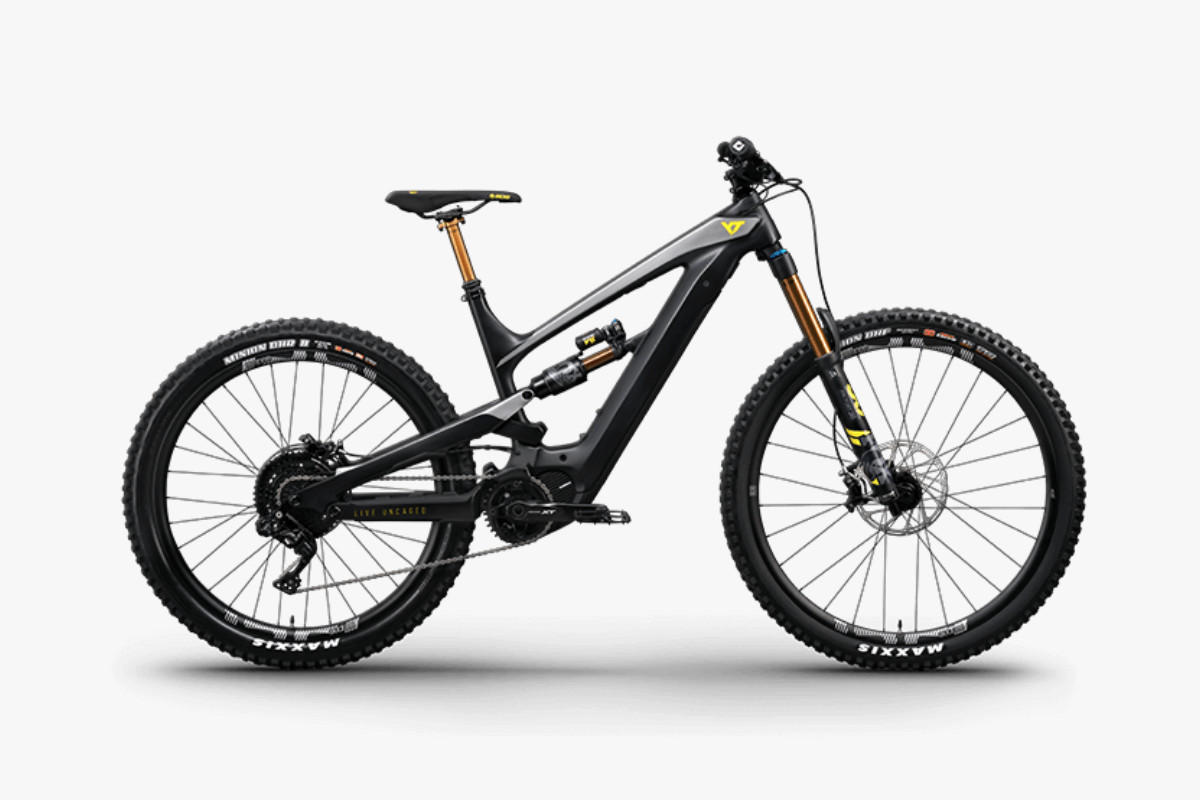 YT Decoy CF Pro Race
The YT Decoy CF Pro Race has to be one of the best value for money e-bikes on the market. Its outstanding specification includes a Shimano 8000 motor and a custom 540-watt hour semi-integrated battery. Which sits underneath the downtube for a lower center of gravity and gives a clean line and aggressive look.
The top-spec continues with carbon frame carbon wheels Fox factory suspension and Wireless Shimano di2 shifting the bike has got 160 mm travel at the front and 165 mm at the rear.
The Decoy is clearly aimed at the gravity-based rider so really suited for downhill and enduro riding. The front end will give you a lot of confidence, and the progressive suspension on the rear requires pushing it hard to get the most out of the bike. If you are in the market for a good looking great value e-bike, you can't get any better.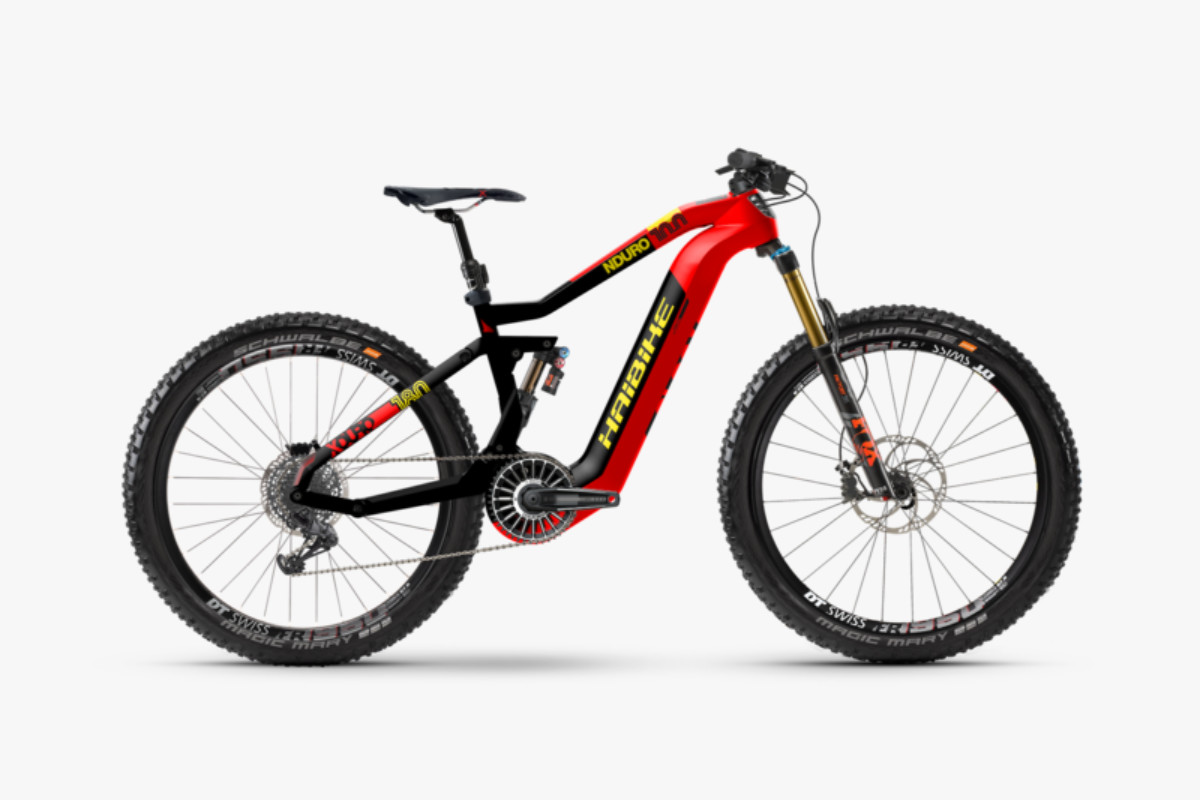 Haibike XDuro NDURO 10.0
The Haibike XDuro NDURO 10.0 is an aggressive and futuristic looking e-bike jam-packed with technology and the hugely powerful FLYON Haibike ePerformance System, with 120Nm motor, 630Wh integrated battery that blows everything else away.
All of this technology means a heavier e-bike is hitting the scales at 62 lbs / 28 kg, so this is not an agile and nimble bike. It's designed for huge Alpine climbs and long sweeping descents, and with that motor, it will climb anything.
The NDURO has 180mm travel on both the front and rear, a large screen, and super-bright integrated lights make it the SUV of electric bikes. New tech includes eSIM technology connected continuously to the internet and tells you if the bike moves.
This is a performance e-bike that is composed over rocks and roots, giving a feeling of super stability due to the extra weight. Blasting around in extreme mode will drain the 640Wh battery with all that extra power, but if you are after a performance e-bike, this is one for you.
Focus Jam² 9.9 Drifter
The Focus Jam² 9.9 Drifter is a super-lightweight carbon frame Shimano powered e-bike with a 29-inch front wheel and 27-inch rear wheel configuration. The Shimano E8000 e-drive offers flexibility with 756 Wh battery capacity split into two batteries.
Focus uses a specially developed concept known as Tailored Energy Concept (T.E.C.) especially developed battery concept used on all of their full-suspension eMTBs. The e-drive downtube integrated and little energy is being wasted thanks to the low weight 45 lbs / 20.49 kg of the bike.
The Jam² geometry is agile and aggressive and gives a lively feeling ride. It's half the price of some of the others mentioned on our list and is excellent value for money.
This is a slick-looking e-bike with its seamless battery integration and sleek looks and low weight. The reason for this is the 378 Wh internal battery of the Focus Jam², which provides only a minimal range. Those who need more can double the capacity with the included, externally mounted T.E.C. Pack battery, but then there go the looks!
Whyte E-180 RS V1
The Whyte E-180 RS V1 is built for the toughest enduro and downhill trails with its handling well balanced and close to that of a non-motorized mountain bike. The eMTB has a total weight of 24.88 kg.
This e-bike uses the Bosch Performance Line CX with a 625Wh battery mounted low in front of the 75Nm motor rather than on top. Therefore, the bottom bracket offers a planted ride but gives the need to time your pedaling to avoid clipping your pedals on obstacles.
The Whyte has a long front angle and a relatively steep seat tube angle. This allows the front wheel to stay planted and the rear to have excellent traction, making it a surprisingly comfortable climber. There is 180mm travel on both the front and back thanks to Fox suspension.
Some excellent features include Whyte's own integrated seat clamp system, a speed sensor integrated into the dropout, and an improvement on Bosch's original cover for the charging socket.
---
LATEST STORIES
A lot of people ride hoverboards, but few understand the technology behind it. We carefully…