After comparing the 16 best folding electric bikes from the top manufacturers, we found that the Brompton had the best folding mechanism, the Gocycle GS was the most stylish and the Tern Vektron S10 Gen 2 came with the most features.
In this article, we compare price, power, speed, range, and safety. There are many good folding electric bikes, and the best for you will depend on whether you want to cycle to work or hop on public transport, so keep reading to find out which one you should choose.
Brompton Electric
The Brompton Electric is a wholly British electric bike that folds in 3 places like all other Brompton bikes. Unlike other Bromptons, this one has a 250-watt hub motor that propels it up to 16 mph.
The bike folds and looks the same as the regular bike and weighs only 5 lbs (2.3 kg) more with the battery removed. The 300Wh battery fits inside a small shoulder bag that clicks conspicuously onto the front of the bike.
The range is between 30 to 70km (about 19 to 43 miles) depending on how and where you ride. The Electric comes with fenders, integrated lighting, and a bell all as standard.
The Brompton Electric also has some neat features like a hand pump is integrated into the bike frame. The pedal on the left side of the Brompton can be folded up, making it easy to push without risking injury to your shin.
Gocycle GS
The Gocycle GS looks like no other folding e-bike. It has single-side mounting for the front and rear wheels, 25mm of rear suspension travel, and a 40-mile-range battery inside a monocoque frame.
The Gocycle is front-wheel-drive with a 500 watts motor and a top speed of 20 mph (25 km/h). There are only 3-speeds with the Shimano Nexus transmission, so it won't be climbing mountains.
The 300 Wh battery pack is integrated into the frame with a range of up to 40 miles (65 km) with a 7 hour charge time. The e-bike weighs 36lbs (16.5kg) and has hydraulic disc brakes.
Included with the bike is a 1.8m cable lock for increased security. It also has a mount for your smartphone to Gocycle app as a dashboard when riding.
Tern Vektron S10 Gen 2
The Tern Vektron S10 is a folding e-bike with BMX style fat 20-inch tires and a rear factory rack that accommodates a Yepp rear child seat without an adapter.
Powered by a Bosch Active 250-watt motor and 400 Wh battery, it achieves a top speed of 20 mph (25 km/h) and a 31-62 mile (50-100 km) range with 10-speed Shimano gears.
The on-board computer has five different riding modes, with information on speed, battery level, and distance. It optimizes shifting actions and regularly updates you on the remaining range.
The Vektron frame design has a reclining battery for a lower center of gravity and a better ride. It accommodates riders from 4'10" to 6'5″ with a telescopic seat post.
Portability is achieved with a three-step fold frame, and the weight is surprisingly low at 48.9 lbs (22 kg) for an e-bike that looks and feels heavy-duty and robust.
Jetson Metro
The Jetson Metro is the perfect folding electric bike to use as a last-mile companion between the train and the office. It has a 250-watt motor hidden in the bike's crossbar that takes you up to 16 mph and supplies 40 miles of range on a single charge.
The Metro folding bike weighs 38 pounds with magnetic clasps to hold the front and back wheels together when folded. It has three levels of pedal assist controlled by the computer giving 150, 200, or 250 watts.
Using the computer, you can also check your speed, distance, and battery level on a small LCD mounted to the handlebar. The 16-inch wheels are wide enough to make it feel safe and stable at 16 mph.
The Metro has front and rear disc brakes, and a chain guard. It is even water-resistant, so you can ride it in the rain. Jetson does, however, warn you to avoid using water to wash it.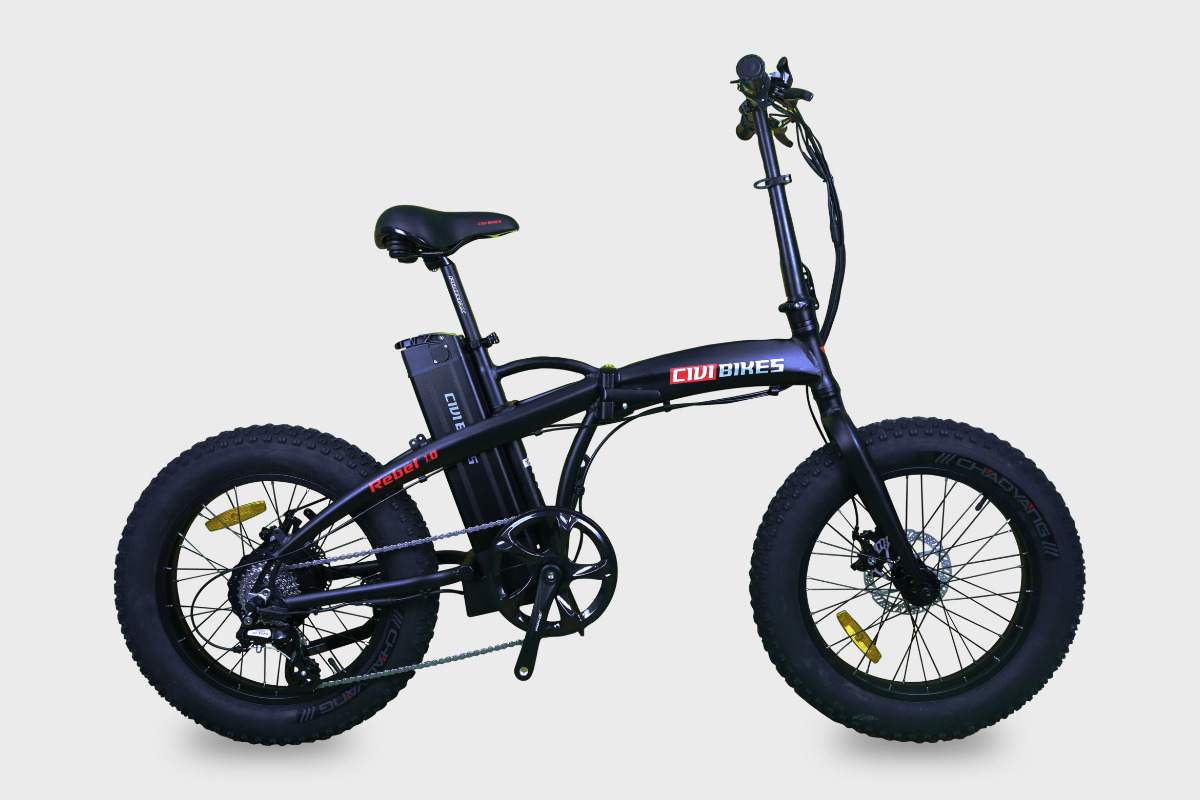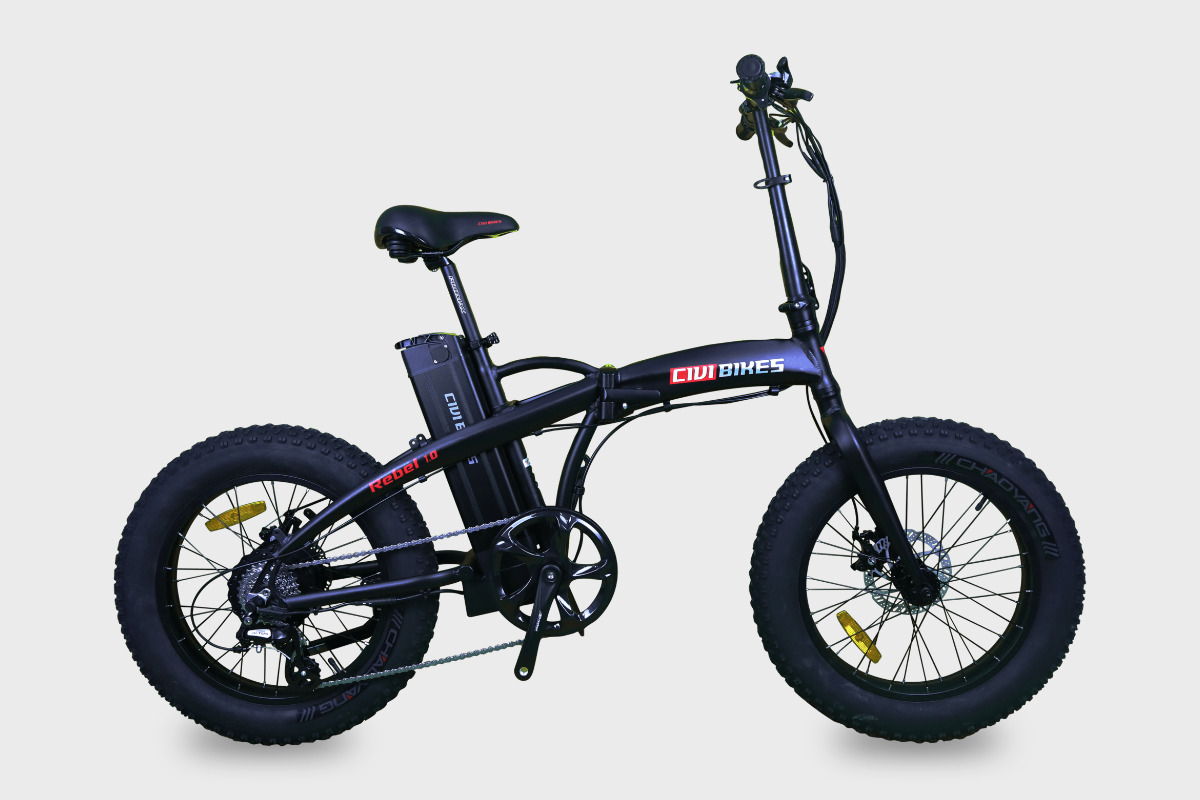 Civi Bikes Rebel 1.0
The Civi Bikes Rebel 1.0 is 40 inches long folded and weighs 60 pounds so not designed to carry. It does take up less room at home and fits in the trunk of your car.
With 4-inch-wide fat tires and a 500-watt motor, it will go off-road and up hills with ease. It also has optional steel fenders, a removable, lockable battery, and front and rear racks.
It has a top speed of 20 mph, a range of up to 40 miles and charges in just 4-6 hours. Which is impressive when you consider similarly priced e-bikes. It has an LCD display to show current/max speed, odometer, and distance.
The Rebel has a robust, durable aluminum alloy frame and supports weights of up to 260 lbs (118 kg), which is over 4 times its own weight.
e-Joe Epik Carbon
The e-Joe Epik carbon is strangely not a carbon fiber e-bike. However, it is a futuristic and stunning style, foldable frame with magnesium wheels, and 500 Watt rear hub motor with a 528 watt-hour battery hidden in the frame.
Weighing in at 58.8 lbs (26.67 kg), this is a heavier folding electric bike considering it doesn't ship with fenders, a rear rack, or lights. Adding to the sleek look but not so much practicality. They did include an aftermarket bell for fun and safety.
This is a robust and sturdy folding electric bike supporting an impressive 300 lbs (136 kg) with 2.25″ tires for comfort and stability, a highly-adjustable suspension fork with lockout and powerful 180mm mechanical disc brakes.
Swagtron EB7
The Swagtron EB7 is one of the cheapest e-bikes we've ever seen. This bargain bike has 16-inch wheels, a 350-watt motor taking it to a top speed of 18.6mph and up inclines of up to 25 degrees.
Swagtron doesn't skimp on the specification with disc brakes, a rear suspension, digital display, headlight, and a removable locking battery. All packed into a 42.3 lb. (19.2 kg) an e-bike that supports up to 6 times its own weight at 264.5 lbs (120 kg).
The EB7 boasts a 36V lithium-ion battery that takes just 3-4 hours to charge from empty. A throttle-only range of up to 19 miles, riders can make it even further with pedal-assist mode. Long-range riders can also take this further with the swappable battery allowing rides to last as long as the number of batteries you can carry.
Sondors Fold X
The Sondors Fold X is a beautiful folding electric bike e-folder with 4-inch tires on 20-inch wheels and an elegantly styled forged-aluminum frame.
The frame has a 672 watt-hour battery, which powers a 500-watt hub motor and a range of 60 miles on a single charge. A seven-speed drivetrain gearing for different terrain and you can ride pedal free with throttle only.
The Fold X weighs 66 lbs and can take a load capacity of 300 lbs. Accessories include a suspension fork, a suspension seat post, a color LCD screen, and a spare battery.
Qualisports Volador
The Qualisports Volador is a sleek and affordable aluminum e-bike that hides its 252 wh battery in the seat post. Which can be charged on the bike or removed and taken indoors to charge.
The Volador is equipped with a Shimano 7 speed mechanical gear system and a 350 watts motor to give 30 miles of range. Stopping is via Front and Rear disc brakes to keep you safe.
Qualisports provide an LCD display where you can control four riding modes—pedal assist, cruise control, a pedal like a regular bicycle and Throttle only mode. The only additional feature is an integrated headlight. You can add optional features such as bags, a rear rack, or a front basket.
Blix Vika+
The Blix Vika+ is a classic looking e-bike with a 500-watt electric motor located in the rear hub, making it easy to climb steep hills and carry weight up to 270 lbs (122.5 kg).
Its 48V/14Ah battery located under the seat provides a low center of gravity and delivers up to 45 miles of range. It comes with a 7-speed Shimano drivetrain, mechanical disc brakes, and a smart bell integrated into the left brake lever.
The Vika+ isn't the lightest folding e-bike at 54.8 lbs (25 kg). Still, it does have one of the higher capacity batteries, color-matched aluminum fenders, a rear rack with smart mounting points for accessories, front and rear LED lights with a brake indicator.
Evelo Quest One
The Evelo Quest One is a lightweight, clean and simple e-bike with a maintenance-free Gates Carbon belt drive, fenders, and integrated lights. It offers a comfortable ride with pedal assist and throttle on-demand, highly adjustable extra-long seat post and telescoping stem.
The Quest One has solid mechanical disc brakes with motor-inhibiting levers for safety. It is easy to fold due to its light 41 lbs weight, hidden in the frame 10.5Ah battery with a 40-mile range per charge, and 250-watt hub motor.
Having only a single-speed makes starting slow, so having a throttle is very lovely. The display is non-removable, so care is needed when folding. No suspension is preserved by the 20-inch fatter tires to reduce vibration and bumps.
Carbo Electric Bike
The Carbo Model X Electric Bike is a carbon fiber e-bike designed around being incredibly lightweight, fast, easily foldable, and durable. The X uses a belt-drive, while there are two other models, the Model S multi-speed derailleur, and Model C with a single gear chain.
The motor is the lightweight Bafang 250-watt, upgradeable to 350-watts. It hits 20mph top speed reasonably quickly via pedal assist with torque and speed sensors or by the throttle.
This bike is ultra-lightweight, with Carbo redefining the weight of an e-bike down to 29 lbs (13.3 kg) due to the carbon fiber folding frame and belt drive.
Other key features include mechanical disc brakes with a hydraulic option, puncture resistance tires, a USB port below the seat, and an ingenious pedal-mounted kickstand.
Gotrax Shift One
The Gotrax Shift S1 is from a brand more commonly known for its popular and inexpensive line of electric scooters. Gotrax has used the same principle and made the S1 one of the most affordable folding electric bicycles on the market.
Some of the cheaper folding e-bikes generally have wheels smaller than 16-inches and a lower top speed of 20 mph (32 km/h). The Shift S1 combines the specs of higher-priced e-bikes with the affordability of a budget folder.
The shift S1 has a 350-watt continuous geared front hub motor and a 187 Wh removable battery, which includes a USB charger port. An aluminum frame, thumb throttle or pedal assist (PAS) riding modes, cruise control, LED display, and three PAS levels.
Compromises come in the form of front and rear mechanical V-brakes and a range of 15 miles (24 km) with pedal assistance and 10 miles (16 km) on throttle-only and no suspension to hide larger bumps and potholes.
The Shift S1 is a lot of value. The bike works well, is comfortable to ride, and has a respectable 37 lbs (16.9 kg) of weight, a decent amount of adjustability, including saddle height and handlebar height.
Fiido D2S
The Fiido D2S is a robust yet lightweight e-bike. It comes with a 250-watt motor, providing a top speed of 15.5 mph (25 km/h) and the possibility to climb gradients up to 25-degrees.
It has a rear shock absorber and 16-inch tires for a comfortable ride. It has a sturdy and lightweight aluminum alloy frame, the bike weighs 54 lbs (24.7 kg) and can carry a 264 lbs (120kg) payload.
It has 3 power modes, pedal mode, moped mode, and pure electric mode. It has a Shimano 6-Speed shifter and a range of 12-21 miles (20-35 km) on throttle only pure electric and 25-34 miles (40-55 km) with pedal assist.
The D2S safety features include an LED front light to ride at night safely, and mechanical disc brakes to help you stop. It folds small enough to fit in the trunk of your car or under your desk and includes a kickstand.
Onebot S6
The Onebot S6 is an e-bike with premium features and design aspects for a very cost-effective price. It has a beautiful looking magnesium alloy frame giving it a lightweight of only 40 lbs (18 kg).
The S6 features a removable LG battery in the internal frame that locks with a key making it easy to take it out for replacement or charging. The battery powers the silent, brushless 250W motors, propelling the Onebot S6 to up to 15.5 mph (25 km/h) from the throttle alone.
The Onebot S6 also tackles inclines of up to 15 degrees and offers a range of 37.3 miles (60 km). All are presented on the smart LCD display, which shows speed, traveled distance, pedal assist level, and battery life in a clean, easy-to-read design.
The S6 has night time covered with a wide-angle LED headlight. The easy folding design makes the e-bike compact with a built-in magnet to ensure it stays securely folded.
RadPower RadMini 4
The Rad Power RadMini 4 is a folding, fat tire, off-road capable, compact electric bike. On its 4th generation Rad Power have worked out all the kinks to produce an e-bike that is sleek enough for city use, and a beast once you're past the outskirts.
The handlebar and seat height are adjustable, accommodating a wide range of riders. It comes standard with full plastic fenders, integrated lights, and a spring suspension fork with preload adjust and lockout.
The RadMini 4 has mechanical disc brakes larger than most for excellent stopping power. Both brake levers activate the rear light for safety and cut power to the motor. A powerful and smooth 750-watt Bafang hub motor with a top speed of 20 mph (32 km/h) can be reduced in the setting menu.
The aluminum alloy frame has a hinge mechanism with 4 redundancies to prevent accidental unlocking during rides. The folding joint is relatively narrow, so there are no knee bumps. There are large aluminum folding pedals, a chainring guide to keeping your pants clean. When folded, the entire bike sits on a metal stand.
---
LATEST STORIES
A lot of people ride hoverboards, but few understand the technology behind it. We carefully…