After comparing the 13 best electric scooters from the top manufacturers, we found that the best overall is the Kaabo Mantis, the best premium electric scooter. With the Gotrax XR Ultra, the best value for money.
In this article, we compare price, power, speed, range, and safety. There are many good folding electric bikes. The best for you will depend on whether you want a scooter to work, hop on public transport or just have some fun, so keep reading to find out which one you should choose.
Kaabo Wolf Warrior 11
The Kaabo Wolf Warrior 11 is a monster electric scooter with two brushless 1200W motors designed for both road and off-road riding. This is the most powerful scooter that Kaabo makes and uses the same drivetrain from the ultra-premium Dualtron Thunder.
It comes with a giant front hydraulic fork that looks like it was pulled off a downhill mountain bike, and the tubular frame wraps around the scooter like an exoskeleton.
Although it's designed for off-road, the scooter is more than capable on the tarmac with road tires as a stock option.
The Wolf Warrior 11 has a top speed of 50mph and can travel 70 miles in single-drive and on eco mode. It has a fully hydraulic brake system, 11-inch pneumatic tubeless tires, and the loudest horn.
Dualtron Thunder
The Dualtron Thunder is a beast of an electric scooter. It's a scooter built to last with an incredibly powerful motor and battery system, giant wheels, and durable construction.
It offers a breakneck top speed of 50 mph and a 75-mile range, so it's practically a replacement for a motorcycle. It's not short on the extras and comes with an impressive instrument panel, lighting system, and brakes.
If you aren't satisfied with regular electric scooters and are willing to pay the high price tag, the Dualtron Thunder could be your dream scooter.
Zero 10x
The ZERO 10X comes with Dual 1000W hub motors and provides a nominal total power output of 2000watts. Two 25 Amp speed controllers handle the power with massive heat sinks to dissipate heat quickly.
Looking at the ZERO 10X, you can see it was designed for off-road riding with impressive suspension arms connecting the 10-inch wheels to the body. These suspension arms are propped up by 2 spring absorbers for added comfort. This allows this scooter to easily handle the bumpiest roads.
The ZERO 10X electric scooter can hit a top speed of up to 40 mph and has a range of 35-40 miles in a single charge.
The hub motors are switchable between a single drive and a dual-motor drive, which allows the rider to switch between ECO mode and TURBO mode.
Segway Ninebot Max
The Segway Ninebot Max electric scooter is powered by a 350-watt motor, which takes it to a top speed of 18.6 mph with a maximum range of 40 miles.
It's quite a heavy scooter at 41.2 pounds (18.7 kg). So moving it around isn't the most straightforward task, but the same weight will allow for a planted ride. It does, however, fold up in seconds.
The Segway is durably made from aluminum alloy and can hold up to 220 pounds and has three riding modes to choose from – Eco, Standard, and Sports.
The Ninebot Max comes with 10-inch tires, and built-in LED front lights, and it also features a rear LED brake light. It's also fitted with a built-in power adapter located right in the board, which means you can charge it on the go with a small power cord instead of a full-length charging cable.
Kaabo Mantis
The Kaabo Mantis has a dual 1000-watt 60V BLDC motor system with a switch to quickly toggle between using one or two motors. Providing 2000watts of power.
With a top speed of 40mph, the Kaabo Mantis has a range of 30 miles from its FST Li-ion 60-volt 17.5Ah battery.
The Kaabo Mantis features semi-hydraulic dual disc brakes that'll help you manage the high speeds comfortably. A dual coil spring suspension system provides an insanely smooth ride due to the dual spring arms.
Although it is designed for urban use, it is very capable of going off-road. The Kaabo Mantis is heavier than most, at 61 lbs. However, for a high-end scooter, that really isn't all that bad. The Wolf Warrior 11, for instance, weighs a whopping 101 lbs.
EMOVE Touring
The EMOVE Touring is a powerful yet compact electric scooter. It is suitable for riders up to 150kg. With both front and rear suspension and pneumatic tires, roads become a smooth experience.
It has a 756 watt-hour LG battery, which charges in 3-4 hours and gives you up to 25mph in range on a single charge. With a top speed of up to 25 miles.
The EMOVE has 5-inches of ground clearance to keep you away from road debris and water. It is comfortable for long rides and challenging terrain, with small 8-inch tires and single wheel braking mechanisms.
Kaabo Mantis Pro
The Kaabo MANTIS Pro electric scooter uses two powerful brushless 60V 1000W motors to deliver up to 55 miles between charges. The Pro offers better brakes, a bigger battery and enhanced performance over the Kaabo MANTIS.
Despite its strong performance, it still folds down easy and allows carrying in one hand. The front and rear advanced swing arm spring suspension deliver a smooth ride on any terrain.
The MANTIS Pro has an excellent display/throttle combination that allows configuration of the speed limit, cruise control, and regenerative braking strength.
It comes with 2 front and rear LEDs, and the bright lateral LED strip will ensure you will be seen at night. It doesn't have fast charging yet and has an 8-12h charging time with the included 2A charger.
Xiaomi 365 Pro
The Xiaomi M365 Pro may look identical to the original. However, it is more substantial than its predecessor in both size and power. It comes with a 250watts motor giving it a top speed of 15 mph (25 kph) and a range of 18.5 miles (30 km).
This upgrade over the original Xiaomi M365 makes it perfect for traveling on the road. The Xiaomi M365 Pro has an improved display, which was a gripe for many owners of the original. It shows speed, battery capacity, lights, Bluetooth connection and has three riding modes – Eco, Driving, and a cryptic 'S' for Sport or Speed.
The Xiaomi Pro is an agile scooter thanks to its combination of reasonable weight, pneumatic tires, and geometry. The electric scooter weighs in at 31 lbs (14.2 kg) and folds to a compact 45″ x 17″ x 19″ which is slightly longer and wider than the original.
Fluid Freeride Horizon
The Fluid FreeRide Horizon is a step above most entry-level electric scooters like the M365. It has more range and power and a dual-suspension making it more proficient for daily commuting.
The Horizon has a 500-watt motor and 624 watt-hour capacity battery, is a longer-ranged, more substantial, more powerful step up from entry-level e-scooters like the Gotrax GXL V2 or Xiaomi Mi M365.
At full charge, the Horizon will hit 25 mph (40 kph). Speed is not electronically governed but limited by motor power output, which delivers a range of 25 miles (40km).
The Horizon is on the heavier side at 42 lbs but feels portable with its compact size of 38-inches by 7-inches by 14-inches and hand-friendly stem.
Mercane Wide Wheel Pro
The Mercane WideWheel Pro has been upgraded for 2020. It combines features like a more extended range, more power, and a new display. It has two 500watt motors giving it significantly better acceleration than a single 1000W motor electric scooter.
Mercane has also improved the brakes and build construction added a new lithium-ion battery at 48V 15AH, making it 1mph faster than the older model. You can now get up to 26 mph (42 kph) and up to 22 miles (35 km) of range.
The WideWheel Pro has a dual brake system that provides a reduced braking distance as well as better overall stopping power. Additional safety also comes in the form of very bright dual front LED lights.
An integrated LCD display with riding statistics such as speed, trip distance, battery voltage remaining, battery charge remaining, riding mode, and cruise control.
The WideWheel Pro tips the scale at 54 lbs (25 kg) a little heavy but light enough to carry for short distances. The scooter has both a folding stem and folding handlebars that reduce it to a compact 43″ x 9″ x 16″ (109-cm by 22-cm by 41-cm).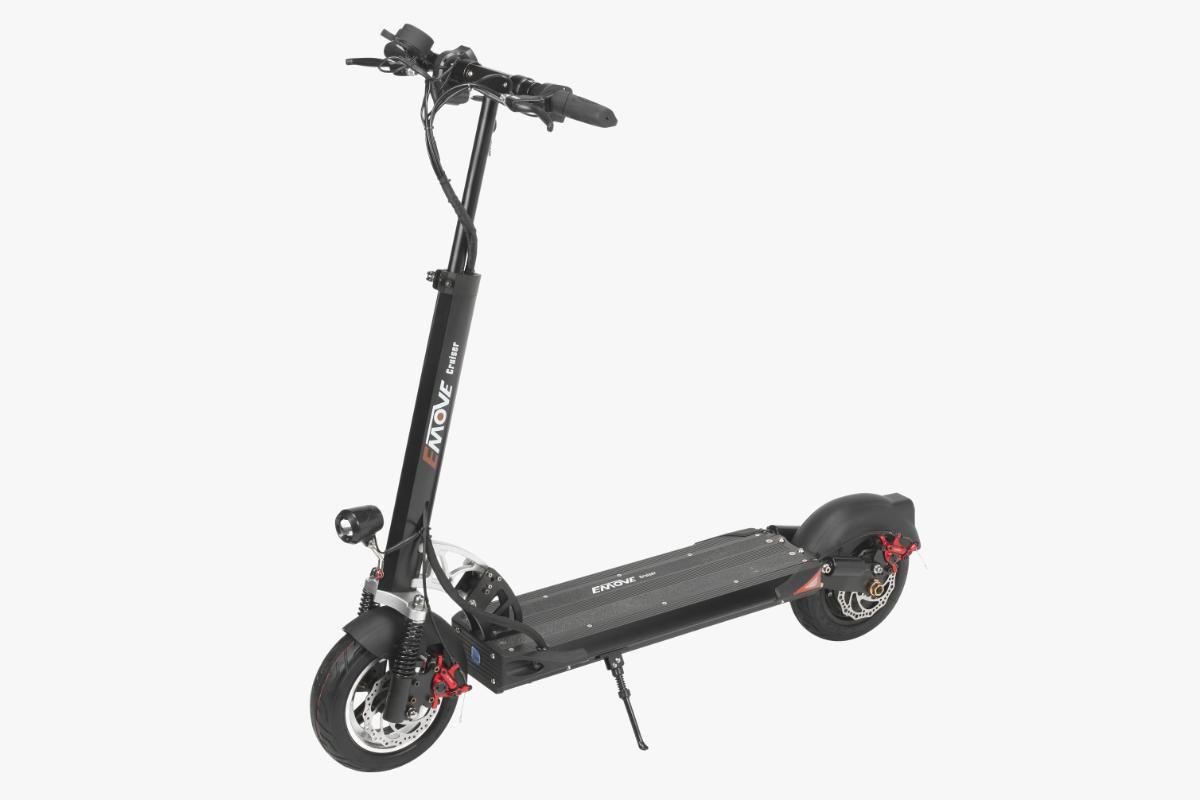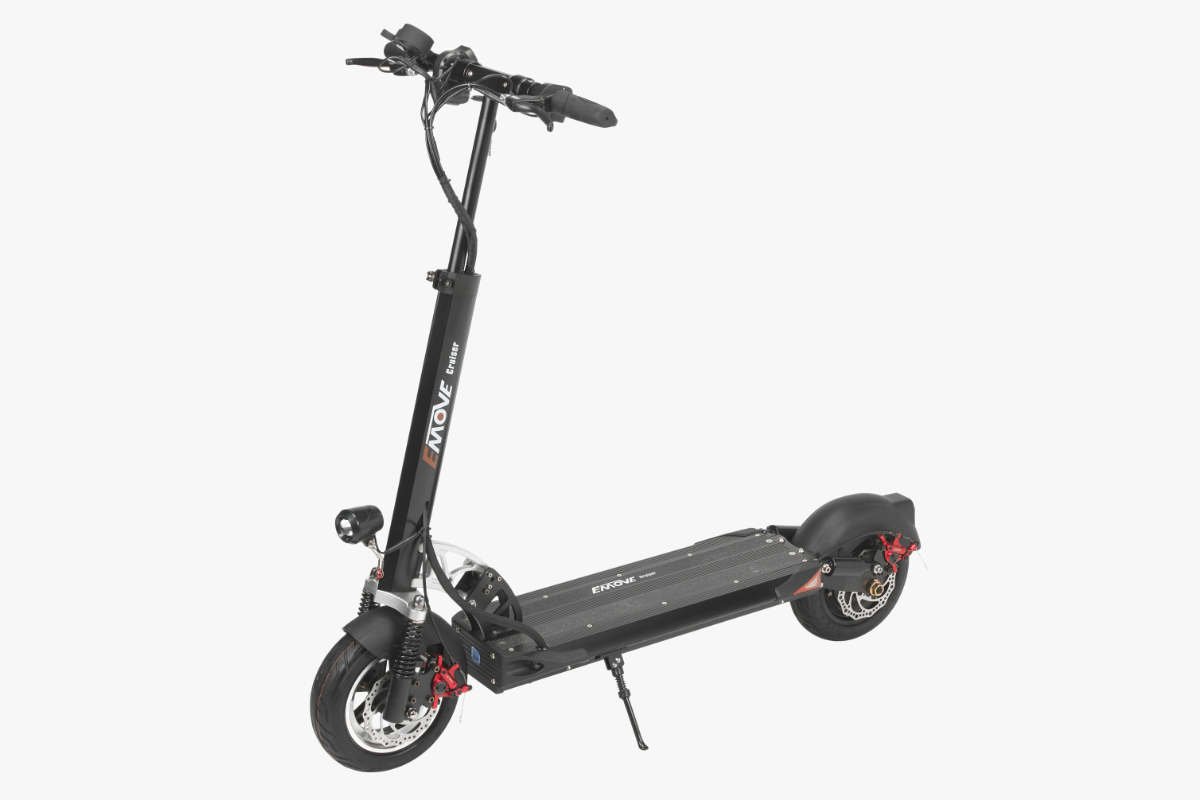 EMOVE Cruiser
The EMOVE Cruiser has a reasonably powerful 600-watt motor and a 52V 30AH battery giving it a top speed of 25 mph (45km/h) and a range of 62 miles on a single charge.
The Cruiser has dual suspension, 10-inch pneumatic tires, and a large deck makes it a very comfortable ride. Weighing in at 54 lbs, the EMOVE Cruiser is a hefty weight for carrying. However, it does have a max load capacity of 352 pounds (160kg), which gives the possibility of 2 grown-up adults.
Having folding handlebars, a telescopic, and folding stem, the EMOVE Cruiser can be reduced to the exceedingly compact size of 49-inches long by 10-inches wide and 14-inches height.
The EMOVE Cruiser uses a standard LCD throttle/display system that appears on many electric scooters with a display of speed, odometer, mode, and battery.
Helping the Cruiser with safety are 10-inch by 2.75-inch front and rear pneumatic tubeless tires and three front lights and three rear lights.
Zero 9
The Zero 9 electric scooter incorporates a 13ah battery with a 48v 600W motor providing the perfect blend of high-end performance top speed of 36 mph (40kph) and a range of 36 miles (44km).
The Zero 9 has a reliable and robust braking system with a front disc and rear drums brakes. Brakes are operated by hand levers.
The LCD speed display has power and mode buttons, as well as an index finger throttle trigger. From this display, different "P-settings" can be adjusted to control regenerative braking strength and acceleration.
This electric scooter has sizable 8.5-inch pneumatic tires that are excellent for overcoming bumps that might affect a scooter with smaller tires.
Gotrax XR Ultra
The Gotrax XR Ultra is powered by a 300-watt motor combined with a 36v 7.0ah battery. Giving the XR a range of 16 miles (25km) per charge at a max speed of 15.5 mph (25 kph).
The XR has two braking systems providing better performance, safety, and redundancy. The front-wheel also has a regenerative brake, which uses the motor to slow down, and a disc brake on the rear wheel.
There is no suspension on the Gotrax XR, just two sizable 8.5-inch pneumatic air-filled tires. These help smooth the ride on rough terrain, but on poor roads, the ride quality can be rough.
The Gotrax XR is light only weighing 26.45 lbs and folds to a compact size of 43.3-inches long by 17.1-inches wide by 14.6-inches high. The XR only has a single bright LED headlight and a rear reflector on the fender.
---
LATEST STORIES
A lot of people ride hoverboards, but few understand the technology behind it. We carefully…