After comparing 10 of the cheapest hoverboards from top manufacturers, we found that the best cheap hoverboard is the DailySaw 6.5″ with the Halo Rover a close second.
In this article, we compare price, power, speed, range, and safety. There are many good cheap hoverboards, and the best for you will depend on whether you want the board for fun for transport, so keep reading to find which one you should choose.
StreetSaw DailySaw 6.5″
StreetSaw's DailySaw hoverboard is ideal for thrill-seekers who want to ride fast. Its fast-paced, low-priced self-balance hoverboard hits speeds up to 10.5 mph (16.9 kph).
It comes with dual 350-watt motors, which can power it up some steep hills with a maximum slope angle of 20 degrees. It's also lightweight, weighing only 25 pounds and can hold riders up to 220lbs thanks to its robust build and aircraft-grade aluminum chassis.
The DailySaw has a high-quality lithium-ion battery with a life of 4-6 hours and a quick charge of 90-120 minutes. Not only does it hover faster than other models, but it also goes a longer distance of 12 miles (19km) on a single charge.
This is an entirely safe hoverboard using premium materials such as the same brushless motor technology as Tesla and is UL certified. It's also equipped with protective bumpers that shield against scratches and help balance the board.
The DailySaw has 6.5-inch tires that are great for all surfaces apart from rough terrains, and it comes in a variety of colors to suit everyone's style.
With dual front-facing lights, the DailySaw can cast light up to 6.5 feet in front of you while you're riding. Mounted above each wheel is a strip of RGB LED lights illuminating in a combination of red, blue, and green to increase visibility even more.
Music lovers also get to enjoy their favorite tunes with built-in Bluetooth speakers and remote control. The DailySaw is one of the best cheap hoverboards you can buy at less than $300.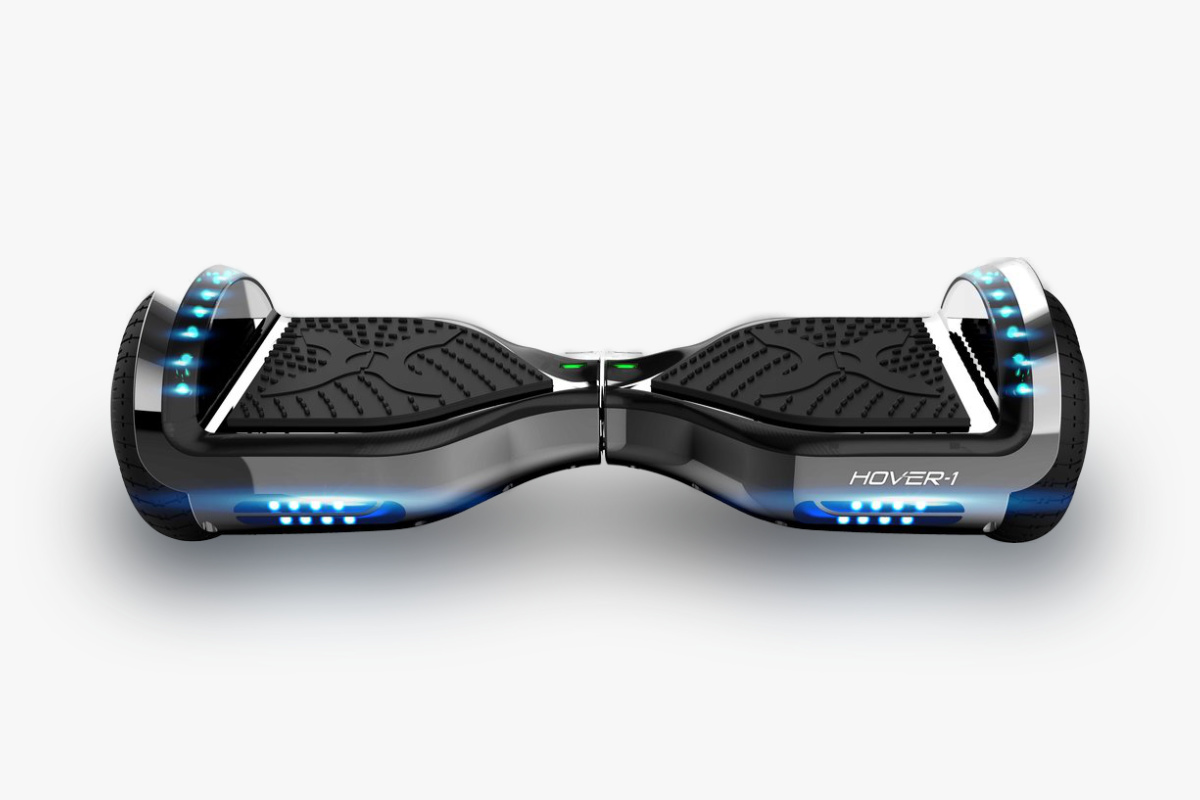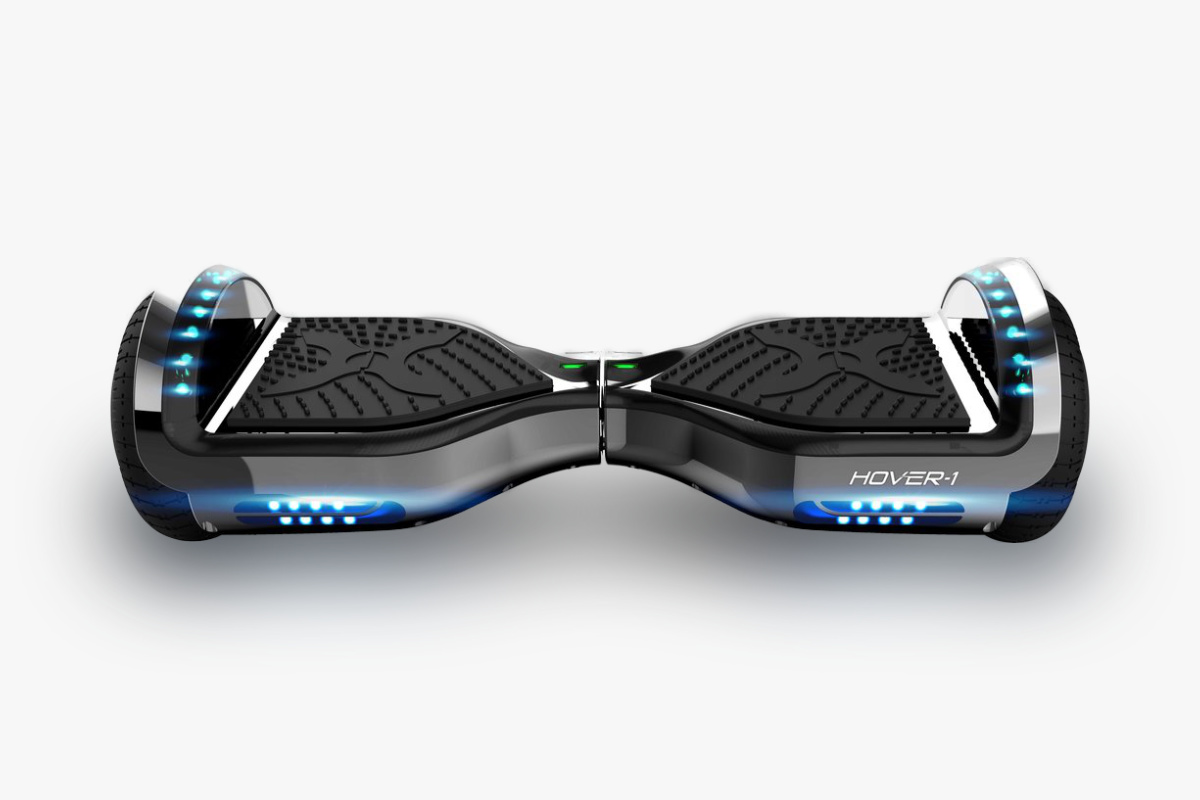 Hover-1 Chrome
The Hover-1 Chrome is an excellent hoverboard for beginners. It is a little slower than the DailySaw with a max speed of 6.2 mph (10 kph), its exceptional value, and the best cheap hoverboard under $200.
With two 150-watt motors and a 24V, 4.0 Ah battery with overcharge and discharge protection, the Chrome can do 6.07 Miles (9.7 km) on a single charge. It's UL2272 safety certified and uses several protective measures, including a Safety Shield Battery Enclosure, and ultra-bright LED headlights and wheels.
The Hover-1 Chrome has 6.5-inch wheels. Max weight of 220 lbs (100 kg) climbs an incline of 10 degrees and takes 4.5 hours to charge. The lightweight, protective housing has a built-in Bluetooth speaker.
Gotrax SRX Mini
The Gotrax SRX Mini is specially designed for kids. It features self-balancing mode and 6.5″ tires making it easy to ride and master.
Powered by two 150-watt motors and a 25.2V battery, the SRX Mini can support up to 132lbs (60 kg). The Mini is one of the lightest hoverboards on the market, weighing in at 15 lbs (6.8 kg). It has a kid-friendly design with a 12.7 lbs weight rating and 2 built-in handles, making it easier to transport.
Speed is limited to 6 mph, and the Gotrax SRX Mini has a range of 3 miles on a single charge. While this hoverboard may not be enough for adults, it's an excellent beginner option for kids. At $100, it's one of the cheapest hoverboards on the market.
The SRX Mini is UL-2272 safety certified, ensuring its meeting the safety standards for electrical components, charging, and battery.
If you want to get a budget-friendly hoverboard solution for the kids to see if they enjoy the experience, then the Gotrax SRX Mini is definitely a great option.
Swagtron SwagBoard T580 Vibe
The Swagboard Vibe T580 can cruise up to 7.5 mph (12 kph) for a range up to 8 miles (13 km) on a single battery charge and climb 30-degree hills.
A low-cost hoverboard that has gained popularity with tech features and high-quality built-in speakers, so you can rock your ride with your favorite music.
The Vibe T580 is a UL-certified scooter not only plays music, but you can also get moving with a click of a button on your iPhone or Android device.
The app allows you to check battery levels, access map functions, and change between the three different riding modes – learning, standard, and advanced.
Power comes from dual 200-watt motors that enable you to climb steep hills of up to 20 degrees. It has 6.5-inch solid rubber tires that provide strong support and a smooth ride.
The Swagboard Vibe T580 offers a dynamic balancing system that allows you to adjust speed by shifting your weight. The balance scooter weighs only 20 lbs, making it simple to steer, stop, and carry, for both adults and kids and can comfortably handle 44 lbs to 220 lbs.
This cheap self-balance board is quite strong with a durable casing that's incombustible, protecting it from overheating or exploding. It uses SentryShield and Smart Battery Management technology to offer additional multi-layered protection against over-voltage and extreme spikes in battery temperature. The battery is 29.4V that takes about 2 hours to recharge.
It has bright LED headlights and non-slip footpads and is one of the best value hoverboards under $250.
Gotrax Hoverfly ECO
The Gotrax Hoverfly ECO has dual motors with a total power of 400-watts that climbs slopes of up to 15 degrees and can handle weights of up to a maximum of 220lbs.
It is a well designed top-quality hoverboard with seven different colors to suit all tastes. All electrical systems, including the battery and charger, are UL 2272 certified. The board has non-slip footpads and protective bumpers, giving it great safety features.
The Hover ECO has 6.5-inch rubber wheels giving it a stable and comfortable ride. The scooter can quickly hit a top speed of 7.4 mph (12 kph), and range of 4 miles (6.5 km) on a single charge.
The battery requires 3 hours of charging and has an alert system that notifies you when the battery needs recharging. If you do run out of juice, this hoverboard weighs 23.3 lbs making it easy to carry.
The Gotrax is stable at high speeds with advanced self-balancing technology and a zero-degree turning radius. The sensors are connected to the electric motors for more natural control of both speed and direction allowing it to maintain momentum and stability in straight lines or when rotating in circles
It comes with night time lunar bright LED lights and has a training mode that allows kids and beginners to have a safe riding experience as they get to grip with the skills.
The Gotrax Hoverfly ECO hoverboard is one of the most affordable hoverboards on the market and one of the best budget hoverboards under $150, offering excellent quality and great features.
CHO Chrome Series Hoverboard
The CHO Chrome Series hoverboard is powered by dual 150-watt motors has a top speed of 6.5 mph (10.5 kph), and a range of 5 miles (8km ) on a single charge, power up 15 degree inclines, and it weighs just 17 lbs.
The Chrome Series is safe with its UL-2272 certified rating and ideal for beginners, kids, or adults and has a well-balanced list of specs for the value.
It has Bluetooth speakers for listening to music and LED lights to help with visibility. It includes a high performing battery that can charge fast 3-5 hours.
The CHO Chrome Series self-balancing hoverboard is built with heavy-duty materials making it long-lasting. The footpad grip is well constructed and offers a consistent grip when riding and offers the balance that you want.
Swagtron T1 Pro
The Swagtron Swagboard T1 Pro has quickly become one of the most reliable hoverboards on the market. Swagtron focuses on safety and goes the extra mile with durability and performance.
The Swagboat T1 Pro powerful 250 Watt motor includes enhanced stabilization. T1 pro can cruise up to 8 mph for up to 11 miles on a single charge, with a powerful 250 Watt motor to help it quickly climb 30-degree inclines.
Gear stabilization also gives you more control providing better traction as you ride downhill. Combined with non-slip foot pads to ensure you have a firm grip when riding. The scooter is capable of making a complete 360 rotation, which makes it easy to maneuver even in tight spaces.
The Pro T1 is UL 2272 certified and features Swagtrons patented SentryShield Multilayer Battery Protection. The smart battery management system lets you get the most out of the Pro T1's rechargeable 36V lithium-ion battery. It charges fast as it requires only 1 hour to recharge fully.
With a weight range of 44 lbs (20kg) to 220 lbs (100kg), the Pro T1 is suitable for use by kids and adults. The exterior body is robust, with an ABS case that delivers higher impact resistance while remaining lightweight 22 lbs (10 kg) and the 6.5-inch wheels are made of aluminum.
It also comes with six different colors, giving you a wide range of options. Other useful features include rubber bumpers, battery indicators, two riding modes, LED lights, and safe stopping features.
Gotrax Hoverfly ION
The Gotrax Hoverfly ION LED Hoverboard is another affordable way to get into hoverboarding. It comes in a variety of 9 unique colors, is easy to ride, and has some very bright LED lighting accents. Like all Gotrax hoverboards, it has a solid construction, is very durable, stylish, lightweight, and comes in a wide range of colors.
It has a powerful dual 200-watt electric motor that enables it to perform on flat surfaces and 15-degree inclines. It can reach a maximum of 7mph with a maximum range of 4 miles on a charged battery. The battery takes 4-5 hours to recharge fully.
The Hoverfly ION uses advanced self-balancing technology that helps you to mount and ride it with ease making it perfect for beginners and kids. It even has a training mode that allows first-time users to master the basics safely. Its gyroscopic technology further assists you in accelerating, slow down, and turn by adjusting and turning your weight placement on the board.
It has durable 6.5-inch solid rubber tires that are suitable for roads and pavements. Weighs only 20 lbs, it easy to carry for kids and supports a maximum weight of 220 lbs (100 kg)
The Gotrax Hoverfly ION is a cheap electric hoverboard that has an impressive modern futuristic look LED lights front and rear as well as on the wheels. All its electrical, battery and chargers are compliant with UL standards, assuring you of your safety.
Gotrax SRX A6
The SRX A6 is part of a series of next-generation hoverboards from Gotrax under the SRX banner. The SRX Mini is also part of our best cheap hoverboards lineup. These are excellent low price hoverboards packed with all the features you need for an exciting hoverboard ride.
This self-balancing scooter takes 4-5 hours to charge the 24V battery on a single charge. The Gotrax uses dual 200 Watt motors that power it to a speed of 6.5 mph (10 kph) over a maximum range of 4 miles (6.5 km) per charge.
The board is lightweight and can easily carry up to 220 lbs. It has 6.5-inch wheels that give you a smooth ride on all surfaces except rough terrain. Gotrax pays excellent attention to safety, and hence all their hoverboards have passed the safety UL tests. This means that there's no risk of fire or any electrical hazard.
The self-balancing mode makes it easy to ride using gyroscopic technology. The built-in Bluetooth speaker lets you take your music wherever you go.
The SRX A6 has LED headlights and wheel lights to make it look cool and change color while you are riding. It comes in some 6 unique and vivid color options with solid rubber footpads for extra grip.
Gyroor T580 Swift
The Gyroor T580 Swift comes with dual 250-watt motors, a 36V 2.0Ah lithium-ion battery, which to 1.5 to 2 hours to charge, and provides the T580 a max of 8 mph (13 kph) can climb inclines up to 30-degree and 7.5 miles (12 km) on a single charge.
This self-balancing scooter comes with an app via Bluetooth to change modes, check batteries, see and adjust the speed, and change led light colors. There are two modes, the child mode makes this hoverboard easy to control for a beginner or a kid. While the adult mode allows expert riders to go faster and perform hoverboard tricks.
The Gyroor T580 Swift also uses Bluetooth to play music through a high-quality music speaker when riding the hoverboard.
The T580 Swift is comfortable on flat surfaces with 6.5-inch rubber tires. It has self-balancing technology and is UL2272 certified. It's light at a weight of 15.8 lbs (7.1 kg) with a max load of 265 lbs (120 kg) for the rider.
StreetSaw KidSaw Mini
The KidSaw Mini is specially designed for kids, so if you are looking for a cheap and safe hoverboard for kids, this is an ideal option. It comes with powerful 250 Watt dual motors, it can comfortably climb slopes with a 20-degree incline.
The KidSaw offers a great deal of safety, equipped with 4.5-inch wheels for a lower center of gravity and a safe speed of 3.1 mph and a range of 6.2 miles. It even comes with a set of safety gear, including elbow pads, a helmet, and knee guards.
It is light at 10 lbs making it easier to carry and can handle a maximum weight of 132 lbs. It uses a lithium-ion battery that takes 2-3 hours to recharge and has a battery life of 5-6 hours.
---
Are Cheap Hoverboards Safe?
When it comes to electronic devices in general, safety is always a significant concern. Especially when there have been stories in the media of hoverboards exploding or catching fire while charging or being ridden. The primary culprits in those fires were the lithium-ion battery and faulty wiring.
These dangerous hoverboards were always cheap and made cutting corners in countries which had few regulations or less rigorous product testing. This has changed, in 2015, with the introduction of stricter rules and regulations that hoverboard manufacturers must comply with when designing and building hoverboards.
As a result, hoverboards have improved in quality and safety. This means that (most) cheap hoverboards are safe and no longer fall into the group of hoverboards that have safety issues.
When doing your research to buy a new cheap hoverboard or even an expensive hoverboard, you must always check that it is UL certified.
What Does UL Certification Mean on a Hoverboard?
In 2016, Underwriters' Laboratories (UL) took on the task of defining extremely rigid quality assurance standards for hoverboards. UL is an international science safety company whose goal is to ensure consumer product safety. Founded in 1894, UL developed the first globally accepted safety standard in 1903.
Since its inception, UL has been a pioneer and champion of product quality and testing standards. For example, in 1921, UL certified its first refrigerator, and in 1923 UL certified the first burglary-resistant safe. UL is still active today. To increase the safety of hoverboards, UL designed, or selected dozens of tests to comprise the UL-2272 standard.
How Do I Know if My Hoverboard is Certified?
All UL-certified hoverboards will come with a holographic certification sticker. This UL certification mark is given to manufacturers and placed on hoverboard packaging.
The UL emblem indicates that the hoverboard was inspected and has passed its tests. If you are new to the hoverboard market, be sure to check for the certification markers.
You can also search the UL database to determine if the hoverboard you own or are considering purchasing is UL-2272 certified.
Safety Tips for Hoverboards
Common Mistakes to Avoid When Buying a Hoverboard
Buying Without Doing Your Research
Hoverboards are a new technology, so buying from a manufacturer with a good track record is essential. You shouldn't make the mistake of failing to take time to do some research that will save time later.
Some of the top hoverboard brands make both expensive and cheap hoverboards. They also make other electric rides such as electric scooters and electric bikes. Therefore, research the manufacturer and check its other products before buying their hoverboard.
We recommend the following brands, and you will see them repeatedly in our lists for a good reason. Gotrax, Halo, StreetSaw, Swagboard, and Swagtron.
Not Reading Customer Reviews
Customer reviews are critical because they provide feedback regarding other people's experiences using a specific hoverboard. However, not many buyers take the time to read customer reviews.
Reviews can give you valuable insights on how the hoverboard operates, its pros and cons, and the manufacturer's customer service should something go wrong.
Therefore, once you have shortlisted your choices, check online reviews to see what other customers say about the hoverboard. Amazon reviews are an excellent place to start. Pay close attention to the negative reviews.
Buying Second Hand Hoverboards
If your budget is limited, it's tempting to buy a secondhand hoverboard. Unfortunately, purchasing a secondhand hoverboard is a mistake you don't want to make.
Hoverboards get damaged, and if its internal damage or electrical issues, they are going to be hard to check. The other big problem is the battery, you won't know how good it is, is it safe to leave charging and how much charge it holds.
If you do have a limited budget, you can still find a good quality hoverboard at a low price. We have listed the cheap hoverboards that are definitely worth checking out.
Don't Ignore Safety Ratings
As discussed earlier in this article, the UL regulations were introduced to ensure hoverboards are safe. They are there to ensure manufacturers comply by using quality components and don't cut corners to keep the cost down.
Checking whether a hoverboard is UL certification when buying means it's certified that the electrical, battery and charger systems of a hoverboard have passed all the safety tests and regulations.
Considerations When Buying a Cheap Hoverboard
The cheap hoverboards discussed in this article are very different from each other and have varied designs, specs, and performance. Some are designed for kids, and others are suitable for both kids and adults.
Therefore, it is essential to understand the differences between all the hoverboard features and determine which one is best for you.
Top Speed
Top speeds differ between hoverboards. Most are between 6-10 mph, which is more than plenty for your first hoverboard, especially if you are a beginner or for kids.
The faster you go, the riskier it becomes, and the more likely you are to fall off. If you are looking for a cheap hoverboard, don't expect to get one of the fastest hoverboards and a tight budget.
Range
Depending on the size and the battery, different hoverboards will have different ranges on a single charge somewhere between 6-12 miles.
Low-cost hoverboards will be budget-priced buy using smaller, less expensive components, so don't expect the range to exceed more than 10 miles.
Power
Power is not just for speed. A hoverboard needs to have a powerful motor to help it cover a better range, carry more weight, climb steeper slopes, and go a little faster.
Most hoverboards have dual motors that produce between 400-watts and 800-watts of power in total. Choosing more power will provide better performance all round and therefore have fewer frustrations.
Battery and Charging Time
The range of the hoverboard is determined by the capacity of the battery in conjunction with the motor. It's best to pick a battery that will give you at least two hours of riding or a range of 10-15 miles (16- 24km).
The other battery consideration is how long it takes to charge. Hoverboards can take a few hours to charge, avoid buying one that takes 4 hours to charge and drains in 30 minutes. If you drain it while you are out, you may need to be patient.
Check these numbers when you do your research and remember the more, the better.
Weight Limit and Hoverboard Weight
Most hoverboards support weights between 44 lbs (20kg) to 220 lbs (100 kg), so you need to check it can accommodate your weight so that you don't overload and destroy it. There are some Hoverboards designed for heavier riders, so check carefully.
The weight of the hoverboard is also crucial as you will have to carry it at some point. You also want the hoverboard to be light so that it won't add to the weight and drain the battery. Choose one that weighs between 20 lbs (9 kg) and 28 lbs (13 kg), especially if you're buying for a kid.
Wheel Size and Material
Wheel size differs from one hoverboard to another. Some are 6.5, 7, 8.5, and 10-inches. Consider the surface you will be riding on. If it's rough, then bigger 8-inches and above wheels will be better. Check out our best off-road hoverboards if you are going for this terrain.
If the surface is smooth, you can use any wheel size. Also, consider the material and type of wheel. Some have solid rubber tires for flat surfaces. Other hoverboards wear pneumatic tires for all terrains.
Brand
When buying a cheap hoverboard, it's best to buy from a brand with a solid reputation. That is why all the hoverboards on our list are from the best hoverboard brands.
These brands use premium quality materials, and therefore their hoverboards last longer. The top brands also ensure their hoverboards are UL certified, meaning their boards are very safe.
Additional Features
Most cheap hoverboards will have additional non-functional features or gimmicks to help sell the hoverboards, primarily aimed at kids. These other features include Bluetooth connectivity, smartphone app integration, and LED lights.
Although not essential to make the hoverboard perform better, some great features are lights for night time use and training mode for first-time riders to learn how to ride correctly.
Some models also offer a wide range of colors, which is a personal choice and has additional fancy designs such as colored LED lights on the wheels.
Common Mistakes to Avoid When Riding a Hoverboard
Wear Safety Gear
Even cheap hoverboards can do some reasonable speeds, and at the end of the day, you are standing balanced on the footpads. It only takes an uneven surface to knock you off balance.
Wearing safety equipment while riding, especially if you are a beginner or kid will help if you lose balance and fall. Wearing a crash helmet and protective pads will hopefully keep it down to a few bruises.
Learn How to Ride
When getting a hoverboard for the first time, learning to ride will be a new experience. Falls are quite frequent with hoverboard riders, and sometimes they can be pretty dangerous.
Make sure you take your time and learn how to mount, move straight, turn, and spin on a hoverboard. Most hoverboards have a learning mode to help you get started, which can come in helpful.
Don't Overcharge the Battery
As with any electronic device, it's best practice not to overcharge it; otherwise, it could get hot and lead to a fire. If you've done your research and shortlisted a UL certified hoverboard, they have an automatic cut off mechanism to stop charging when the battery is full to avoid overcharging.
Most electric hoverboards have a battery level indicator or a prescribed charge time, so it's still a good idea to check. Avoid leaving the hoverboard plugged in when it reaches full charge.
Final Thoughts
Hoverboards are fun and exciting gadgets. As with any gadget buying, one requires a little research as the specifications and features vary so much.
To get the best hoverboard deal, you will need one that is durable, easy to use and has excellent specs and features. In this guide, we have listed the top 10 most affordable hoverboards with their specs and features.
When it comes to cheap, electric hoverboards, we are sure that you will find one that matches your budget and suits your needs.
Whether you're an expert or a beginner, a kid or adult, heavy or light, there's an affordable hoverboard that's perfect for you. All the hoverboards on this list will give you value for your money.
---
LATEST STORIES
A lot of people ride hoverboards, but few understand the technology behind it. We carefully…